Reputation Can Be Much Slower To Recover From Than Fundamentals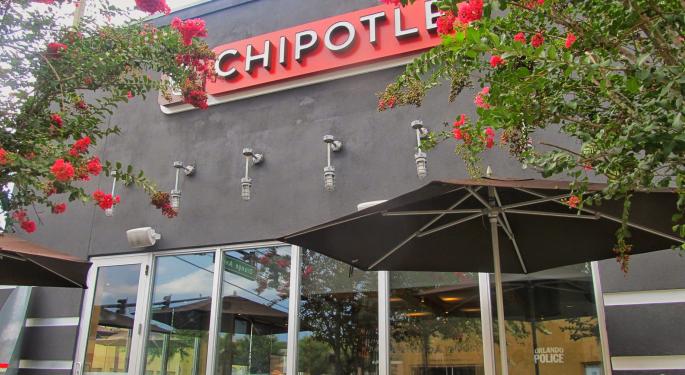 Chipotle Mexican Grill, Inc. CMG 3.37% stock dipped briefly below $360 this week for the first time since 2013 after the company laid out its preliminary guidance for 2017. Chipotle lost a huge amount of business and market cap last year during a string of E. coli outbreaks and other food safety issues. However, the company has since set out to re-gain its lost business.
Although Q3 revenue was down 15 percent compared to Q3 2015, Chipotle notched its second consecutive quarter-over-quarter revenue gain.
Up to this point, the reputational damage the stock has endured has trumped any modest fundamental recovery that the company has achieved. The chart below paints a clear picture of how revenue has bounced back in the past two quarters but Chipotle's stock continues to fall.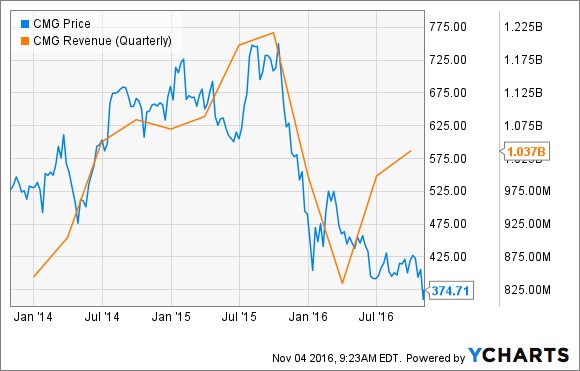 Value investors use hundreds of metrics like earnings, revenue growth, book value and free cash flow to try to determine how much a stock is "worth." However, at the end of the day, a stock's value is only what investors are willing to pay for it.
When investors lose trust in a company like Chipotle, improving fundamentals may not be good enough to convince them to buy back in.
Trust and reputation are critical for stocks. Just look at the single-digit PE ratios of Delta Air Lines, Inc. DAL 2.94% and General Motors Company GM 2.86%. Both companies have been delivering record profits, but both companies are also less than 15 years removed from bankruptcies. The market can have a long memory.
It may take years for stocks like Chipotle, Mylan NV MYL 4.31%, Wells Fargo & Co WFC 1.93% and others to recover previous valuations. Improving fundamentals may not be enough.
However, Tesla Motors Inc TSLA 1.3% CEO Elon Musk believes there is hope for these battered stocks if investors are patient enough.
"Brand is just a perception, and perception will match reality over time," Musk once said.
If Chipotle keeps its business on the right track, Musk believes its reputation will eventually follow. Unfortunately for investors, it may take a while.
Image Credit: By Miosotis Jade (Own work) [CC BY-SA 4.0 ], via Wikimedia Commons.
© 2016 Benzinga.com. Benzinga does not provide investment advice. All rights reserved.